Now, in one of my
posts
, I'd mentioned how flat my tube of Juicy Tube had become. I was getting increasingly frustrated by the trickle of gloss which comes out no matter how hard I squeeze on the tube. So, out of that frustration, an idea slowly bubbled in my head as I was stuck in traffic one day.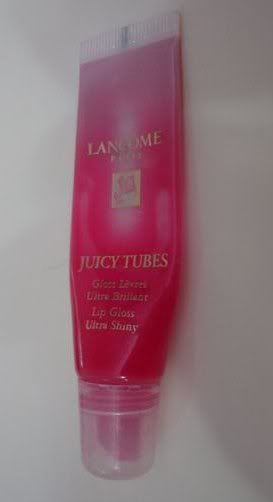 First, dig out any old lip gloss tubs. Alternatively, make a quick stop at your local Guardian or Watsons. Make a beeline for the travel toiletries section. They have some plastic tubs the size of the 20c coins. Those will do perfectly! Together with the tubs, should be a plastic spade meant just for scooping creams or lotions. (Oherwise, cotton buds will do as well)
Next, grab hold of your kitchen scissors.
The sterilization process is simple enough. Wash the tubs and scissors with soap and water. If you're anal like me, dip your tools into some Dettol to sterilize them. Then, pour some hot boiling water over for further sterilization and also to wash the Dettol away.
Dry both the tubs and scissors with clean towels. Now, the fun begins!
Cut your tube into half across. Then, using the scoop, scoop everything you can into the tub. Easy enough? You'll end up with a very satisfying sight.
You wouldn't know how much gloss there is actually still stuck in the tube until you've completely removed everything.
Check it out, there's so much of gloss still left in the tube! And to think I almost wanted to toss it out!
Not forgetting that Juicy Tubes are very sticky by nature, you'd want to pop a retractable lipbrush into your makeup case as well.
There, that's easily 20 bucks worth of gloss in that tub.
Now, what shall I get next to replace this when this completely runs out?