For weeks on end, I've been observing how I'm running low on each of the makeup item. Each time that happens, I moan about it to my
trusty
confidantes
. No one understands my predicament as much as they do.
And, although it is indeed a tragedy, it's also an exciting time because it means I can start on something new!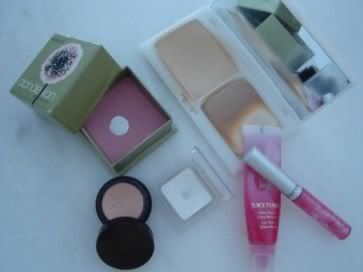 The Powder (Shu Uemura)
If you peer at it hard enough, you can see just the little bit of the bottom of the pan right smack in the middle of the cake.
The Blush (Benefit Dandelion)
A huge gaping hole first greeted me about a couple of weeks back. I've taken to scraping the sides with the brush. A replacement box has already been purchased. Shryh very kindly carted it back for me from Sephora in US on her recent trip.
The White Eyeshadow (Muji)
I consider this a staple because it brightens up the eye area a lot. Just a light layer onto the lids opens up the eyes. The bottom of the pan reared its head around the same time as the blush did. No replacement yet. Still looking, still shopping, still considering.
The Glosses (Lancome's Juicy Tube in Fraise & Red Earth Lip Shine)
According to Shryh, my JT can be tossed into the thrash can but I love it too much (read: am too kiam siap) and I want every bit out of the tube. However, I
have
tossed the Red Earth tube out. I couldn't scrape anything out anymore. All that's left of it is the memory of it. And, this photo, of course. Dior's Ultra Addict Plastic Gloss in Edgy Rosewood has is already in my greedy hands as a replacement.
The Undereye Concealer (Laura Mercier's in #1)
I'd seen the bottom of the pot about more than a month back. I've been consistently tapping the sides of the pot to get more out of it. I'll wait till I'm completely out before I make another purchase. No plans to switch to another concealer.