Having gotten our Victorian Licenses burning in our wallets, we made our way to the city yesterday for a good roam around.
The Benefit counter at Myer was having a field day! They've got a huge promotion to launch the very pretty, very shimmery face powder th
rrr
ob!
Shaped exactly like its predecessors Dandelion, Georgia, Hoola and Dallas, th
rrr
ob is meant to simulate the natural flush one gets when her heart races. And, like all its other predecessors, it comes with a square little brush with the exact same soft bristles.
I picked up the box and held it side-by-side with my staple Dandelion and Dandelion simply looks peachier compared with th
rrr
ob. Dandelion is a simple ballerina pink with no shimmer but on the other hand, this new member to the family has the faintest bit of shimmer that's hardly noticeable when brushed onto my hand.
Taking into account that neither Dandelion nor Georgia shows up at all on my hand, it is not really saying much. As usual, I had on my regular Dandelion and was rather reluctant to slap on more colour. However, when I swiped the powder with my finger, it's a very sheer dusky pink that would most definitely look gorgeous on the Asian skintone. To be fair, the picture below
does
do th
rrr
ob justice. This is probably as close to the real thing as it gets.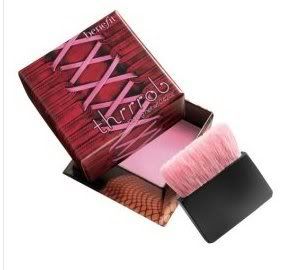 If it is as sheer as I'd seen it, I would see it no problem at all for cool-toned and fair (moi!) girls. You've just got to be a bit careful and light-handed with it. Even with Dandelion, on certain pale days, I
could
go overboard and end up to be too red.
Currently retailing for AUD$49, it's priced exactly the same as the other face powders from Benefit. Taking a step back, with the AUD being almost neck-to-neck with the USD, it's rather ridiculous to be paying almost double for a product here. th
rrr
ob retails for only USD$28, so if you've got your own cosmetics mule doing the runs for you, get this in the US (and let me in too to share in with your mule!).
There's also a promotion running in Myer currently. Purchase th
rrr
ob and any other item, you'll get a free gloss from the Her Glossiness range retailing for $32.00 each. Or, purchase
any
Benefit item, and get a tiny free Benetint sample.
Myer stores carrying Benefit Australia wide:
Bourke St, Melbourne
Chadstone, Melbourne
Highpoint, Melbourne
Queen St, Brisbane
Bondi Junction, Sydney
George St, Sydney
Castle Hill, Sydney
Chatswood, Sydney
Hay St, Perth
Rundle Mall, Adelaide
Pacific Fair, Gold Coast
Chermside, Brisbane