I came home yesterday, wanted to sit on the heater to defrost my butt. Literally. But, what stopped me was this on the dining table!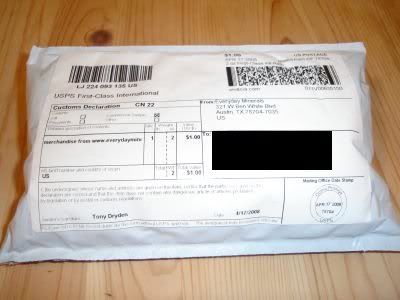 It was small enough to be shoved into our mailbox



So nicely-packaged. Not!



Packed in 5 of the cutest sifter jars ever



My choices



My pathetic attempt of swatching the foundation



The blush and the concealer


This morning, I test drove one of the foundations. I chose 'Fair'. Because of the miniscule amount of foundation I use, it's really hard to gauge if it was the perfect colour for me. All I can see is, my-skin-but-better, which was a good thing, I think? It evened out my skintone, covered up the redness and closed up the pores. The colour was not too dark nor too light.
Too soon to tell if it's the perfect one.
I'll try 'Olive Fair' tomorrow.